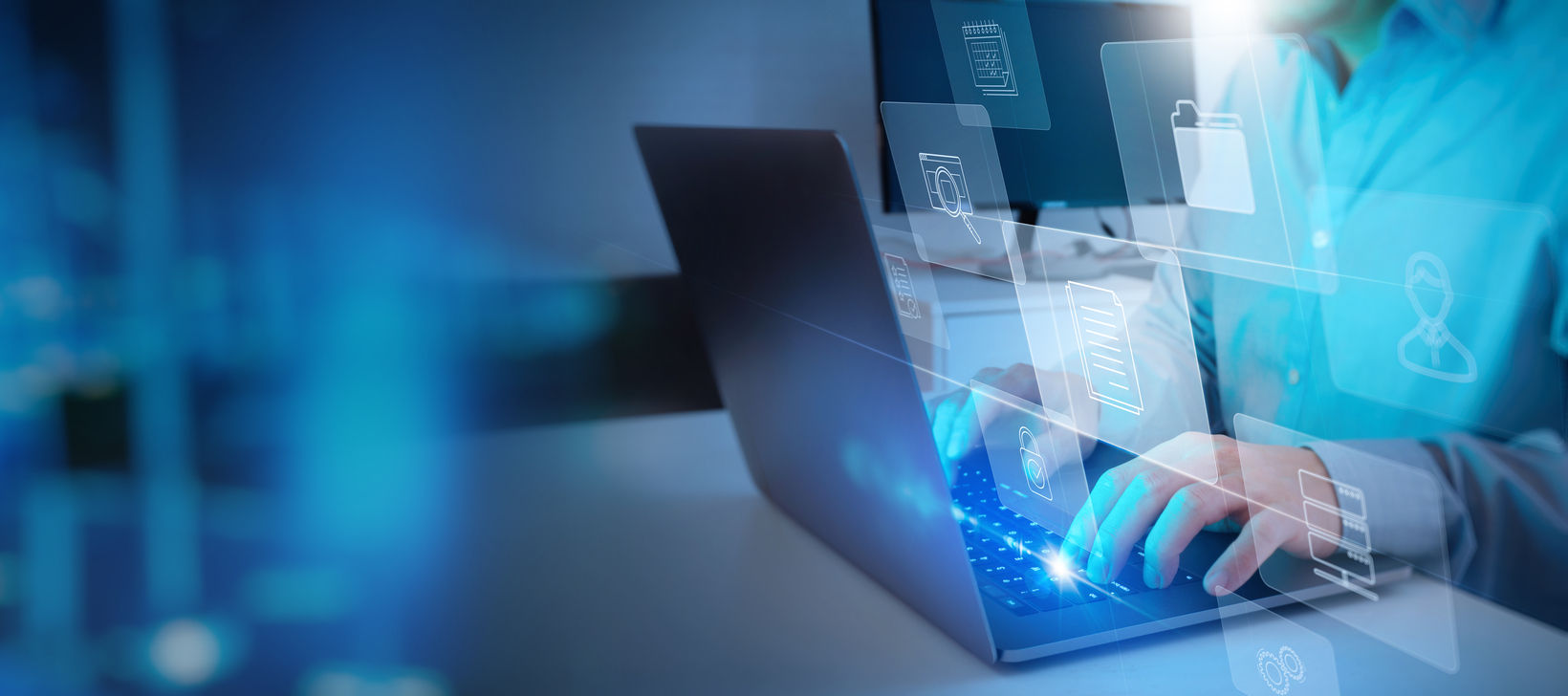 DATE:

AUTHOR:

The Avidon Health team
Unveiling the Next Generation of Flows!
DATE:
AUTHOR: The Avidon Health team
With this release, we're excited to announce an enhancement to automation triggers alongside a significant feature update. We invite you to take a minute to discover all the amazing new benefits included in this BETA upgrade.
Flows 2.0 BETA
Flows 2.0 is our next-generation Flow Builder, featuring a range of new and improved features that combines Automations and Flows to create a more integrated solution that simplifies the building of participant experiences. We are excited to offer our clients an early preview of Flows 2.0 as a BETA release.
Our team will be working hard over the coming weeks to add more features and resolve any outstanding issues. We appreciate your feedback during this process, as it will help us to make Flows 2.0 the best it can be. Please feel free to share any thoughts via our Product Communication Center.
Following is an overview of what you can expect to find as you explore the new feature. For more information about Flows 2.0 BETA, please visit our WIKI.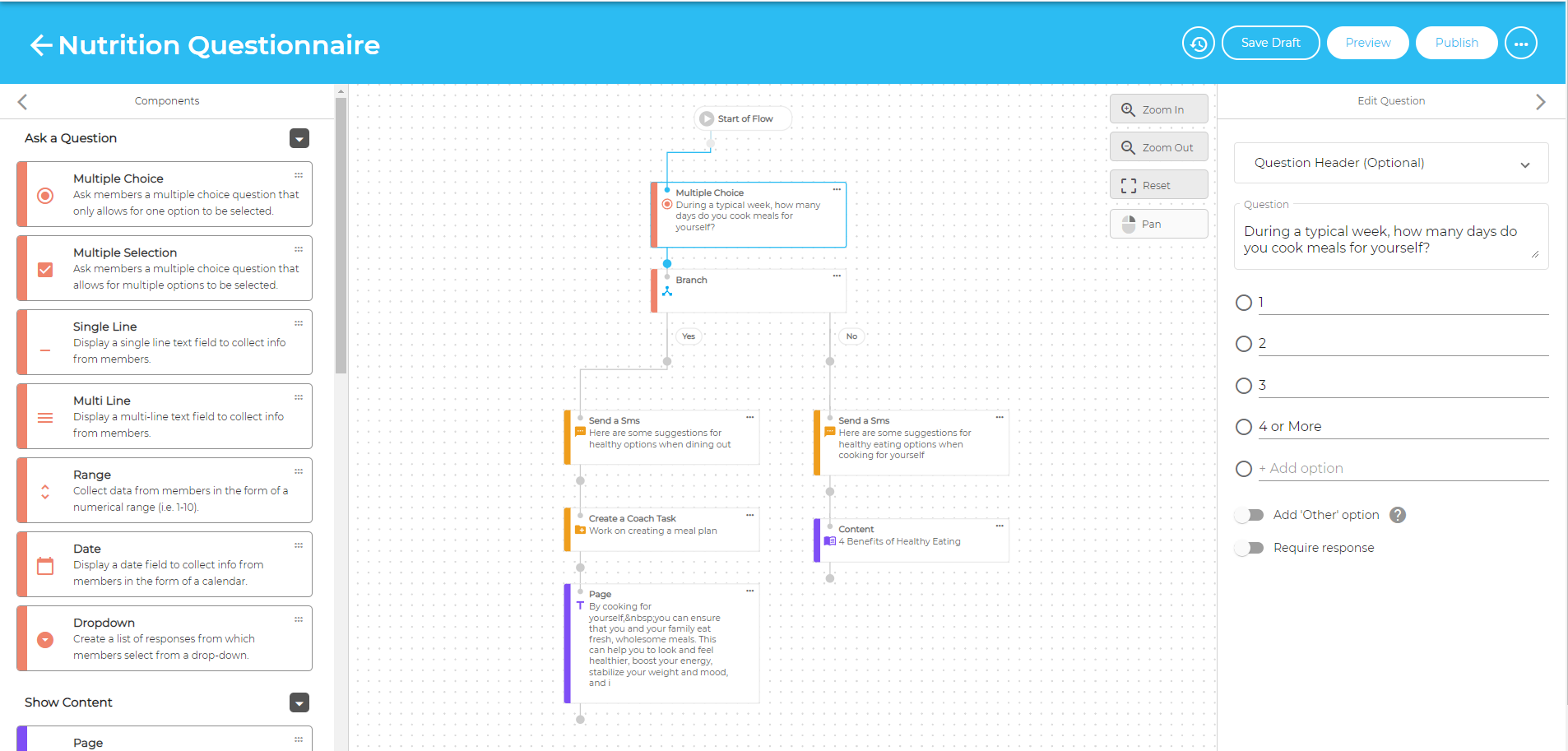 Publishing Model – Flows 2.0 now follows a standard publishing model allowing content creators more control during the creation and refinement of Flows. These publishing features will help to ensure a better experience for not just content creators but for participants as well – ensuring that they see only the content you want them to when you want them to see it.

Autosaving – When using Flows 2.0, your Flows will now automatically be saved as you work on them.

Draft mode – Work on new versions of Flows2.0 in draft mode with confidence so that participants will only see your finished versions once you are ready to publish them.

Version history – As you continue to refine and improve your Flows 2.0, a version history is maintained. This will allow you the ability to view or restore previous versions of a Flow if needed.

Template Catalog – Content creators can now select from a growing library of templates curated by professionals. These Flows are created following best practices so you can save time and publish participant experiences faster getting you to market quicker. You can choose to use Flow templates as-is or personalize them to meet your individual needs.





Automation Components – Automation actions can now be triggered directly from within Flows 2.0 from anywhere you desire. This integration of automation actions will make it much easier to view the entire participant experience while saving time by removing the need to create and maintain Automations separate from the Flow. This will be extremely valuable if you want to create unique care paths to help individuals achieve their health goals using behavior-based content, courses, tools, and resources.

Options include:

Send Email

Send SMS

Create Member To-Do

Assign a Member Goal

Create Coach Task

Set a Member's Lead Contact

New Branching Logic Component – Branching logic is now available as a stand-alone component that can be used from anywhere within a flow – removing the need to branch directly from a question. Additionally, branching logic has been expanded to include member profile attributes such as birthdate and gender.





Improved Builder Behavior and Presentation – We have added some significant enhancements to how you view and interact with components as you build Flows. These improvements will make it much easier to understand the user experience as you scan – without having to select individual components to gain insight. Your flows will be easier to organize as they grow, allowing you to better manage complex experiences.

Categorization of components – Components are now grouped into common categories such as 'Ask a question' or 'Automation'. With the growing library of components to select from, grouping them will make finding the type of component you are looking for a breeze.





Color coding and iconography – Expanding upon categorization, components are now color-coded and include an icon associated with the component type. By adding color and iconography you can now more easily identify the category and type of component when viewing a Flow.

Ability to select and move groups of components – You can now select a group of components and move them together anywhere you would like in the builder. This grouping capability will make the organization of Flows much easier as you add complexity.

Dedicated panels for components and settings – You will now find one panel on the left dedicated to the selection of components along with a panel on the right dedicated to component settings.

All question text visible on component tiles – Question text is no longer truncated but instead fully visible on the compon­ent tile. This will make it much easier to view the participant experience at a glance, without having to select individual components for additional context.





Snapping of components to the grid – Components will now snap to a grid when moving them around the builder. This will make the organization of Flows much cleaner and easier to visualize.
Note - since this is a BETA version you may experience some bugs while using the functionality. Please be patient as we continually work to make it better every day. Here's a list of some of the issues we're currently working on. Have additional thoughts? We want to hear them, click here to submit your feedback.
Flow 2.0 Editor

Preview mode may not work­­ as expected

Unable to restore an archived (previous version) of a Flow 2.0

Unpublishing a published Flow may not function as expected

Validation messages when publishing 2.0 might not appear user friendly

On larger Flows, the screen may lock when clicking away from the browser and back

Branching

The branching component may not function as expected when using the 'Unknown' operator

Nested branching components may not function as expected

Member Experience

Marking a To-Do as "complete" that references a Flow does not function as expected
Templates – The recently released Flow templates are being recreated in Flows 2.0 so you can utilize the latest functionality.
Over the coming releases, we will continue to communicate new features and enhancements for Flows 2.0 as progress is made.
Start Trigger Conditional Logic Added to Automations
With this release, conditional logic can now be applied to the automation Start Trigger. By adding conditional logic you now have the ability to better define the group of participants that could be assigned an automation when triggered. Conditional logic will create more personalized participant experiences. In the example below a condition has been added ensuring that this particular automation is only triggered for members with an age greater than 35.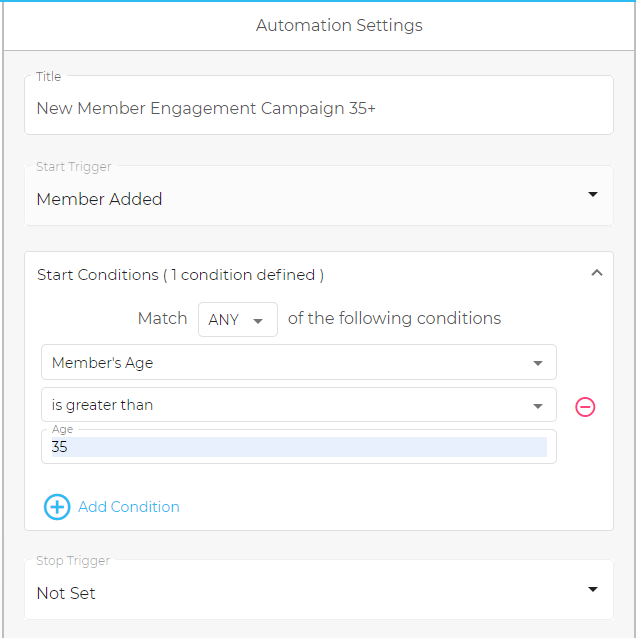 Your valuable feedback is crucial in our journey to make Flows 2.0 the ultimate experience. Share your thoughts with us via the Product Communication Center to help shape the future of Flows 2.0!