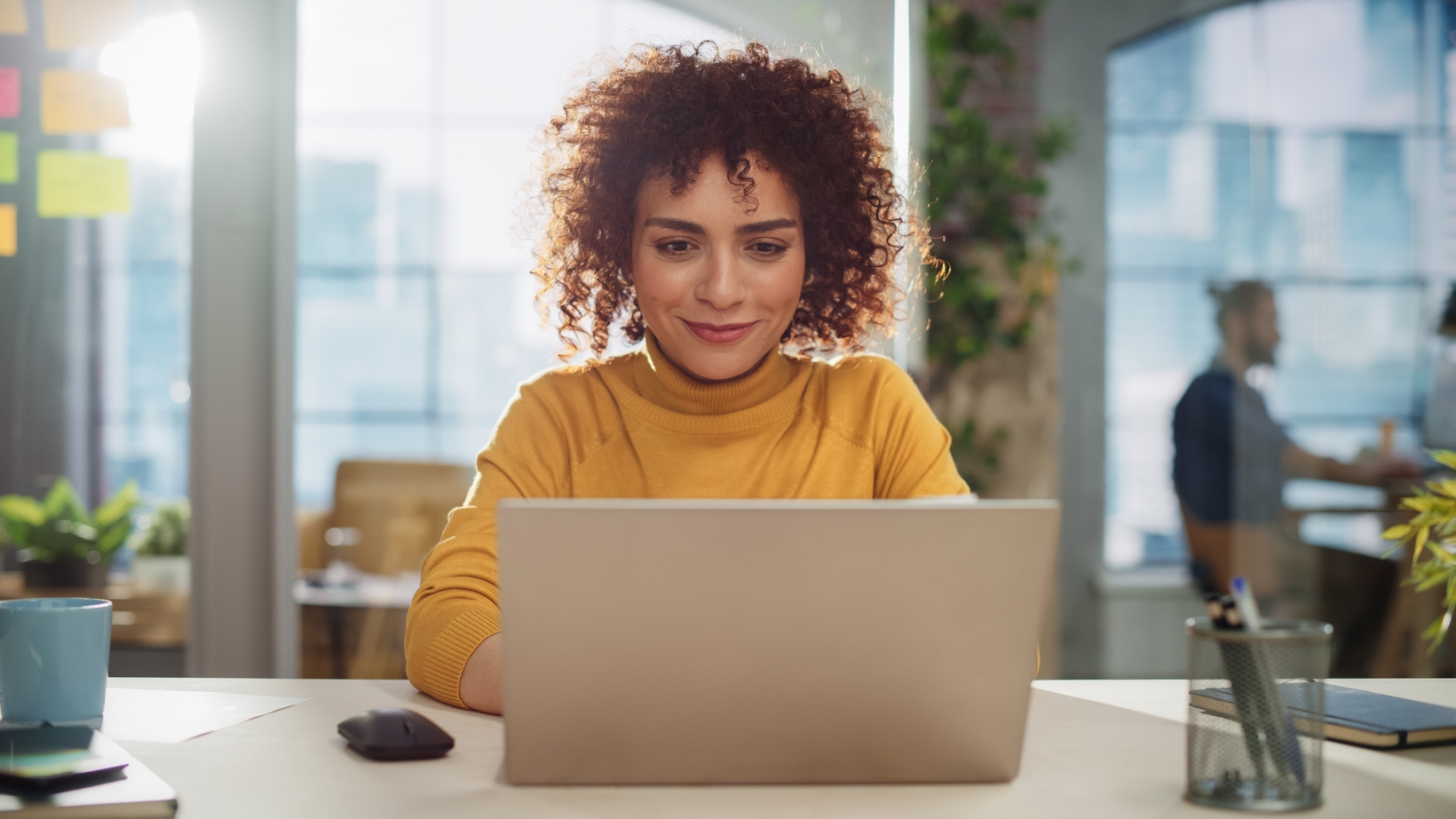 DATE:

AUTHOR:

The Avidon Health team
Page Builder Released, Assessments Improvements & New Content
DATE:
AUTHOR: The Avidon Health team
Page Builder Exits Beta
At Avidon Health, we believe in the power of personalized experiences to help drive engagement. That's why we're excited to introduce Page Builder, an innovative tool designed to help you create tailored health and wellness journeys for your users.
With a variety of built-in components at your fingertips, you can design targeted experiences addressing your users' specific health goals and interests. Whether they're focused on weight management, stress reduction, or any other health goal, Page Builder lets you design an immersive experience for each unique journey.
The power of Page Builder extends beyond content customization. With our intelligent automation feature, you can dynamically set your users' home page based on their selected health interests. This allows you to deliver a focused and distraction-free experience, helping your users to stay engaged and motivated on their health journey.
Page Builder puts you in the driver's seat, empowering you to create targeted, engaging, and personalized health experiences for your users. Enhancing health and wellness engagement has never been this personalized or this easy. Welcome to the future of wellness engagement.
If you're interested in using the page builder feature, please reach out to your account representative.
Assessment Data Collection Improvements
With this release comes improved behavior when interacting with assessment forms. When filling out an assessment multiple times, those individual sessions are now grouped in such a way that navigating between them is as easy as selecting the desired session from a drop-down. This streamlined navigation makes it much easier to scan a member's historical responses without having to leave the assessment window.
Additionally, a new option can be found relative to collection of responses that may have already been collected. This new option allows the admin to explicitly identify a response as having been re-collected when that response may be identical to the last. This is helpful when collecting longitudinal data points or responses that may remain the same over time - while explicitly acknowledging that the member was asked and had responded the same.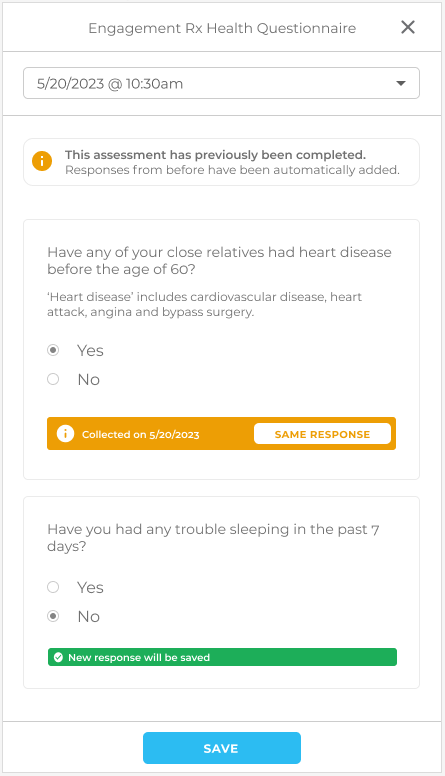 Content Library Additions
Our content team continues to create content to enrich your users' wellness journey. Our monthly content is created to provide diverse and insightful resources to engage and inspire your users. Following is a list of new content pieces, categorized by their associated keywords.
Chronic conditions, general health
How and When to Use Crutches

How and When to Use a Cane

Managing and Alleviating Chronic Back Pain: Time, Medication, and Activity

Understanding Carpal Tunnel Syndrome and Easy Stretches for Relief

Common Mouth and Throat Problems During Cancer Treatment: What to Know

The Epley Maneuver: Relief for Vertigo and Dizziness

10 Common Headache Triggers with Explanations

Using a Walker: Tips for Safety and Independence

The Connection Between Smoking and COPD

Building Strength and Managing COPD: Exercises for Better Breathing

Limiting Salt Intake in Heart Failure Management

Clearing Your Lungs: Techniques for COPD Management

The Most Common Causes of Chronic Pain

Carbohydrates and Sugar in Diabetes: Understanding Their Role in Management
Nutrition, healthy eating
Nourishing Your Heart: How Food Choices Impact Heart Health

The Benefits of Reducing Sodium Intake: Who Should Consider It?
Parenting, lifestyle
Creating an Asthma Action Plan: Protecting Your Child's Health

Ensuring Safety and Health for a Child with Epilepsy

The Impact of Secondhand Smoke on Children: A Parental Perspective
Checkups, general health
Recovering After a Lumpectomy

Exercise Electrocardiogram (ECG): Monitoring Your Heart's Response to Exercise

Choosing the Right Emergency Room: Key Factors to Consider

Bronchoscopy: A Vital Diagnostic Procedure

Tubal Ligation: Understanding a Permanent Birth Control Option

Screening Tests for Colon Cancer: Early Detection Saves Lives
Safety, exercise
Safely Increasing Your Workout Intensity

From Sedentary to Movement: Steps to Kickstart a More Active Lifestyle

RICE Method: First Aid for Injuries and Swelling

Getting Active Again After a Health Scare
Workouts, exercise
Strengthen Your Core: Simple Exercises for Stability

Quad Sets Exercise

Strengthen Your Calves with Heel Raises

Pelvic Tilt Exercise: A Key Move for Core and Back Health

Hamstring Stretch: A Guide to Limber Legs
Medications, general health
Common Side Effects of Depression Medications

Inhaled Steroids for Asthma: Breathing Easier with Medication

Radiation Therapy: A Vital Tool in Cancer Treatment

Rebound Headaches: When Relief Leads to More Pain

The Essential Role of Insulin in Diabetes Management
Welcoming baby, lifestyle
VBAC vs. C-Section: Understanding the Differences and Making the Right Choice

Coping with Back Pain During Pregnancy

Understanding Postpartum Depression: A Common Challenge After Childbirth

The Journey of Pregnancy: A Trimester-by-Trimester Guide

Staying Active and Fit During Pregnancy: Safety Tips for Expectant Mothers
Sleep, general health
Restful Nights: Tips for Powering Down Before Bedtime
Stress, wellness
Relaxing Your Body to Soothe Your Mind and Manage Stress

Mindfulness-Based Stress Reduction: Finding Peace in the Present
Self-reflection, wellness
The Mind-Body Connection: How Your Thoughts and Feelings Affect Your Health
Substance use management, general health
Bouncing Back from a Smoking Slip-Up: Turning Setbacks into Success
Brain health, wellness
The Role of Brain Chemicals in Depression

What is PTSD?

The Path to Recovery: Overcoming Depression
Healthy weight
The Power of Positive Thinking for Healthy Weight Management

Positive Thought Patterns for Successful Weight Management

Tracking Food and Exercise for Weight Management: Why it Works

Creating a Plan for Successful, Long-Term Weight Management

Preparing for Your Weight Loss Journey

Diet vs. Exercise: Exploring Their Roles in Weight Management

Tracking Food, Calories, and Exercise

Embrace the Power of Movement: A Guide to Active Aging
Communication is Key
Read the full article in the Product Communication Center - where you can also submit your thoughts and ideas.
Want to reach out to our team of experts on Engagement Rx? Click here for our helpdesk.